Components

*The medium is conducted heat treatment at 121℃ for 20 minutes for sterilization, and ph of the solution was adjusted to be 6.0 to 6.5 by adding 0.01% NaOH.

1. Mixed spore solution
The water solution was filtered from the medium. And it was mixed in equal amount with spores to be about 200000 quantities.
2. Moistening solution
Lauryl acid soda 0.05g/L

1. An incubation device and condition
Incubator with the thermostat
Temperature: 28 - 30 deg C
Humidity: more than 85%
Period for culture: 28 days

The mold are cultured between 2℃ and 10℃ in pure culture techniques. And they are used within 30 days after preservation. *The molds on the list are included 60 molds, which are frequently detected in conventional home.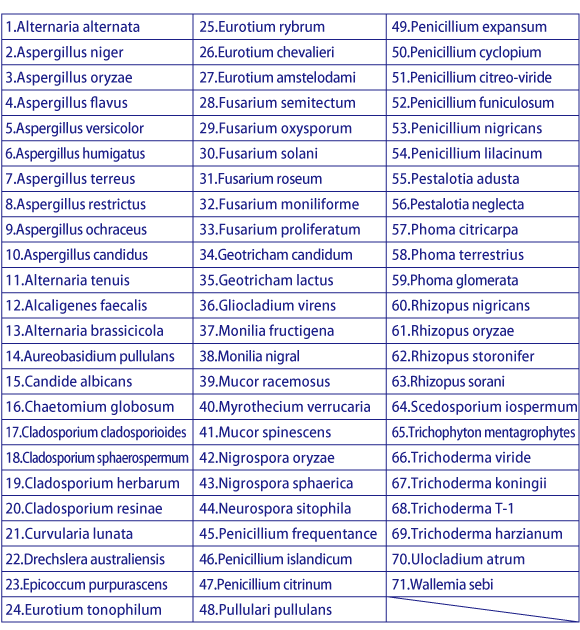 Level 1 : Mold was not found at all.
Level 2 : Mold grew on less than 10% of the surface.
Level 3 : Mold grew on 10-30% of the surface.
Level 4 : Mold grew on 30-60% of the surface.
Level 5 : Mold grew on more than 60% of the surface.