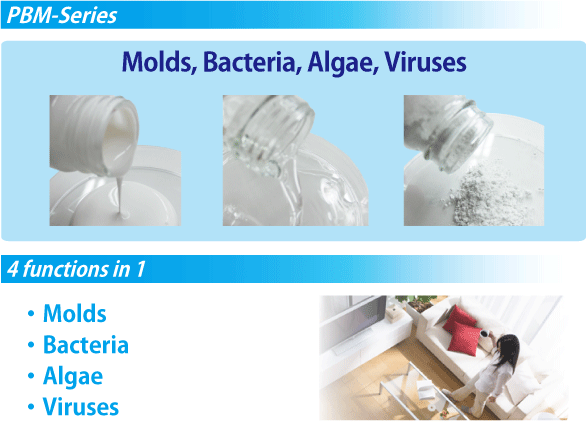 PBM-Series are effective against molds, bacteria, algae, and viruses. PBM-series will add value to your product.

PBM-Series are also effective against fungi, which is difficult to deal with by other anti-microbial agent.

In a testing inspection, PBM-Series are comfirmed effectiveness to following kinds of Viruses. aH1N1 virus, Norovirus (feline calicivirus), Type A influenza virus.

By original combined techniques, PBM covers wide range of spectrum, which effect more than 2000 kinds of germs. The spectrum contains 60 kinds of high detection frequency mold, bacterium, algae, and yeast. It has anti-bacterial effect not only bacterium but also fungi.
                                   About original combined techniques→
                                           

PBM does not contain hazardous materials, and it gained some safety data in independent testing institutons. Moreover the effectivenes of PBM is also verified in some testing institutons, such as Boken Quality Evaluation Institute and Kaken Test Canter.
                                                About Safety Data→
                                             About Efficiency Data→






Please contact us fordetails                                             

                                              About use application→