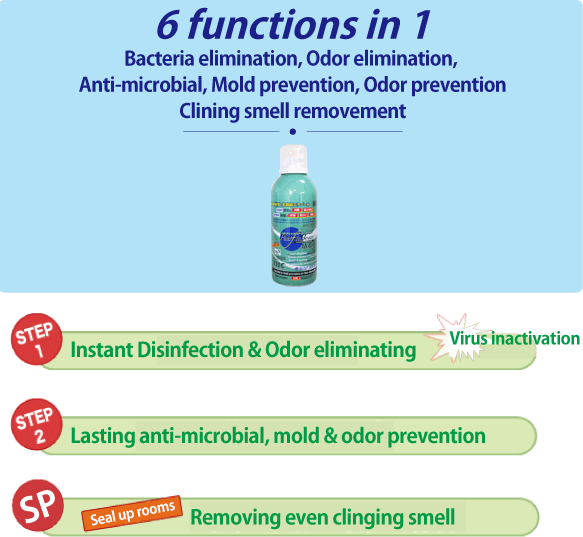 Plant extract has powerful Bacteria and Odor elimination effectiveness. By those effectiveness, forest can keep clean condition by itself. PBM-Deo Mist contain 100% natural plant extract and make it possible to cleanup your room.
To solve problems with clinging smells, such as tabboco and toilets of pet,
just try and feel powerful effection.
By original combined

techniques, PBM covers wide range of spectrum, which effect more than 2000 kinds of germs. The spectrum contains 60 kinds of high detection frequency mold, bacterium, algae, and yeast. It has anti-bacterial effect not only bacterium but also fungi.
                                   About original combined techniques→
                                            

PBM does not contain hazardous materials, and it gained some safety data in independent testing institutons. Moreover the effectivenes of PBM is also verified in some testing institutons, such as Boken Quality Evaluation Institute and Kaken Test Canter.
                                                About Safety Data→
                                             About Efficiency Data→

1 Close doors and windows. Turn off gas main and products causing fire.
2 Shake well.
3 Put the can in the middle of a room on a flat surface. Check the escape route before using.
4 Open the cap. Press the botton, the lock will be engaged to secure the botton during entire process.
5 Go outside the room, and close the door.
6 Do not get in the room at least 30 minutes apart after spray.
*To enhance effectiveness, maintain the sealed condition for 8 hours to 24 hours after spray. Open the doors and windows for 10 minutes to give time for the interior to air out before you enter.